Thanks for glancing your eyes over these words I have penned for this month. I am grateful to be back home with my wife in our hometown of Hobart, Tasmania after a lot of travel for the first 6months of this year. Back to work at my 'day job' repairing bicycles in the local store and helping the clients of my coaching company with their cycling goals. It is nice to be steady in one place for a month or so, it offers a chance to reflect on what I have learnt and witnessed on my travels recently.
I wanted to touch this month on something that I believe to be VERY important in the life of people with diabetes but is not often spoken about.
Wherever I travel I try my best to appreciate what the biggest challenges among the people I meet affected by diabetes. From travelling globally in the diabetes space now for 8 years, something has been a UNIVERSAL challenge and has not dissipated at all with the advent of technology in fact in some circumstances it has been elevated with the increasing technology available.
This is the challenge of diabetes anxiety.
As a person living with Type1 diabetes my day and millions of others around the world's day's begin with a blood test. This test gives me a number indicating the amount of sugar in my blood (BSL). This number has the potential if I allow it to dictate the trajectory of my day.
The other day the result of my morning test as it is many times was far from ideal. A low blood sugar level can make you feel as though merely making one's way from the bedroom to the kitchen to fetch some food seem like a monumental task. From having experiences like this for over 22 years now I believe I have developed some good coping mechanisms and attitude checks in how best to deal mentally and physically with these inevitable hiccups in life with T1D.
On this occasion my BSL was low, I snapped myself into action, treated it immediately, forced myself to the kitchen for a fulfilling breakfast and then carried on with my day not letting a moment of negativity in the morning take my whole day away. I felt groggy for a few hours after waking up but it did not have to inhibit what I needed to get done on this day.
In order to get the most out of life with diabetes we are forced to live more and more IN THE PRESENT, when we treat our high/low BSL numbers immediately ON THE SPOT, the quicker they are remedied and the quicker we can get on with our day.
That moment of low BSL had the potential to dictate the trajectory of my day, my attitude toward it decided to what extent.
It is easy to get carried away with the thoughts of 'what could've happened' and the danger of those numbers. I have experienced this worry for many years, this fright of what those BSL numbers can mean.
This worry is the root of diabetes anxiety and I have seen it envelop people's lives, completely restricting them from pursuing a purpose, pursuing their dreams in life. It is one of the great tragedies of life with diabetes I believe and it does not have many physical manifestations so is often ignored/ overlooked.

I have met people with diabetes whom it seems their every waking thought is held hostage by worry of what number their BSL is at. In some instances continuous BSL monitoring has exacerbated this worry with constant reminders of the roller coaster ride our blood goes through each day.
Learning to accept that these numbers will not be perfect and carrying on with life despite this is I believe one of the most crucial keys to unlocking freedom from diabetes anxiety.
As a young university student I worked in construction as a labourer. In construction builders are constantly dealing with unplanned issues/ problems that create more challenges for their jobs. I learnt a handy attitude in this job that I believe carries well into living with diabetes. Construction workers would often say on the worksite "IIWII"- "It Is What It Is"! The problems they encounter are there, they aren't going to go away, the only option they have is to get on with the job at hand… It Is What It Is. Life with diabetes is not too dissimilar..
I've got it now, it is not going to go away, I need to confront this challenge, get it sorted and get on with it!
In 2017 on the fantastic 'Pedal for 7' event organised by Novo Nordisk in the UK I had the pleasure of presenting a medal to a 92 year old lady named Maureen from Birmingham.
She was receiving an award from DiabetesUK for 80 years living with Type1 diabetes. I asked Maureen what she thought was the most important thing she learnt from living with T1D for this long?
She responded by saying "It has taught me to take my challenges in my stride, you've just got to carry on" she said in her very polite British accent.
Maureen was an inspiration to every that was there in Birmingham on that day and highlighted how important it is to keep diabetes in it's place!
It has already taken away our pancreas' it need not take our happiness, our composure, our motivation, our purpose. It has the ability to take those things away from us but it can only do so if we let it. Our attitude as someone living with this and fighting it is what will determine how much it takes from us. Instead of giving those elements of our person away to diabetes it is much healthier to SHARE them with other people.
Our attitude's can be strengthened by those we meet and the examples we see. I have been very, very lucky in my life to have been surrounded by some very inspiring and empowering people living with T1D and I am to some extent devoting the rest of my life to ensuring these stories get shared far and wide.
At the end of the day, Diabetes anxiety CAN be very destructive to lives but the remedy is I believe quite straightforward. It does command a lot of patience but as I learnt in my training in psychology at university one of the most empowering things someone suffering can hear is
"Everything will be OK, It's going to be alright"..
In the case of diabetes management I know this to be true!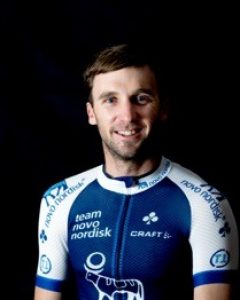 After receiving a diagnosis of type1 diabetes at age ten, Justin's dreams and goals in life were threatened. Turning to cycling to help him cope with type1 diabetes quickly proved to not only be beneficial but also the start to a successful pro cycling career. Justin spent five years as a professional in road cycling travelling the world racing his bike. Dealing with the challenges of sport and diabetes across five different continents has given Justin a wealth of stories and knowledge about dealing with challenges on and off the bike.
Having since transitioned from a pro cycling career to completing two university degrees in psychology and education from Macquarie University in 2015 and being awarded with a University Blues Award for excellence in sport and academics. Justin continues to fuel his competitive streak with multi day mountain bike racing for team SubarumarathonMTB.com, having achieved podium finishes at The Crocodile Trophy, The Simpson Desert BikeChallenge, The Pioneer in New Zealand and The Mongolia Bike Challenge.
Since 2011 Justin has complemented his cycling career with sharing a message of hope, empowerment and overcoming adversity to audiences internationally.

Contact:

Twitter: @JustinMorrisTT1
Instagram: @justinmorrismdog
LinkedIn: https://www.linkedin.com/in/justin-morris-3a71b4a7/www.mindmatterscoach.com
Go to the top of this page